The History Of All Saints' Wickhambrook
Conclusion
We hope you enjoyed your virtual visit to All Saints' church. If you wish to visit in person sometime by car, head for the A143 road that runs from Bury St Edmunds to Haverhill. At a distance approximately midway between the two (about 8 miles), there is a short stretch of dual carriageway down a hill. At the bottom of this hill on the way to Bury St Edmunds is a cluster of houses and a pub, The Plumbers Arms. Alongside the pub on the left is a small country lane. All Saints' Church is approximately 300 yards along this lane on the left, with a small church car park just beyond on the right which you may use. There is also a rural bus service from Bury St Edmunds that passes the church. If the church is locked, a key may be obtainable from The Vicarage next to the almshouses, or Manor House on the left of the lane about 30 yards along from the Plumbers Arms. In the church porch there is a map for all five key holders. To ensure the church is open for your visit please contact the vicar or the webmaster in advance.
Clicking on this link will display a large scale road map of the area.
We hope you will help to preserve some of Suffolk's architectural heritage and rural charm with a contribution to our restoration fund. Thank you.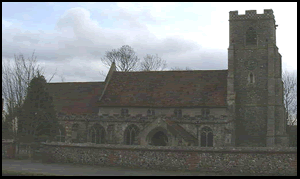 All Saints' Wickhambrook view from the road