The Parish Church Of All Saints' Wickhambrook
Walk The Way Of Prayer

"Visit the Wickhambrook Labyrinth."… [Details]
Quote / thought for the day
If any man sin, we have an Advocate with the Father, Jesus Christ the righteous; and he is the propitiation for our sins. 1 S. John, 2. 1.
Benefice Church of the day - Saturday

Saint Margaret's Stradishall: Stradishall Church has very close ties with the RAF base that used to exist in the village. Its history is less well documented than the other Benefice churches but boasts some very good mediaeval wall paintings. To find out more click on the image.
Friends Of All Saints' Church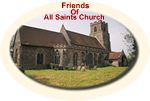 To learn more click on joining the Friends of All Saints' Church or on the image.
Welcome
If you are a new visitor we hope you have time to read the Rector's message of welcome.
Map Showing Church Location And Key Holders
You should be seeing a Google Map here. If it's not visible, or you can't click it, use the link on the right.
To ensure the church is open for your visit click on the Notices page. Further general information, including facilities for disabled people, can be found on the Notices page.
Plan your route to a benefice church