Press and News - 9th January 2011
Val Pillar's organist retirement presentation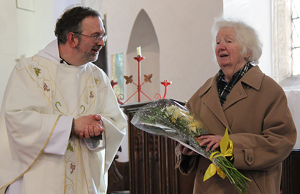 Val Pillar with the Rector after receiving the book voucher and flowers which were presented by Sue Long.
The Benefice service at All Saints' Wickhambrook saw two special events: the re-dedication of the Benefice Hall, after the service; and during the service, a presentation to Val Pillar who has retired as a Bansfield Benefice Organist after 15 years. Val served many of the churches within the benefice in all types of weather and on a number of occasions battled through the snow from Clare to play for a service in the middle of winter. The Benefice will miss her greatly and her talents as an organist.
By way of a "Thank You" the Benefice got Val a specialist book token and flowers to mark the occasion. Fittingly Val was presented with the gifts by Sue Long who co-ordinates the Organist rotas for the benefice. Val joined everyone in the Benefice Hall after the service to enjoy the refreshments laid on for the occasion and to chat with her many well wishers.