The Wickhambrook Windmills
Wickhambrook had four mills.
Wickhambrook Windmills

| Mill | Type | Grid Ref. | Date Built | Remarks |
| --- | --- | --- | --- | --- |
| Bullock's Mill | PR | 743552 | M 1836 | Demol. 1909 |
| Great Mill | PR | 751540 | Dated 1740 | Finally cleared away in 1966 |
| Fullers Mill | PR | 756555 | c. 1850 | From Bury St Edmunds |
| Baxters Mill | P | c. 762583 | M 1824 | Moved to Beyton c. 1830 |
P=; PR=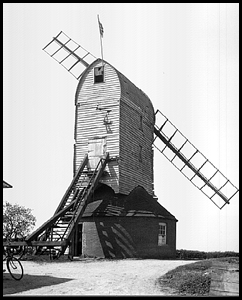 The Great Mill
All had disappeared by 1982. The Great mill is no longer in existence having been demolished by 1982. (Although some records suggest it was cleared away in 1966.) The three photographs here were taken of it in the 1930-1940s.This photograph was taken in 1935 and comes from the Templeman Library at the University of Kent at Canterbury. It forms part of the Donald W. Muggeridge Collection of Mill photographs.
Baxter's mill was at Thorns corner and a well by the mill reputedly never ran dry. Parts of the dilapidated windmill were used to restore another windmill elsewhere.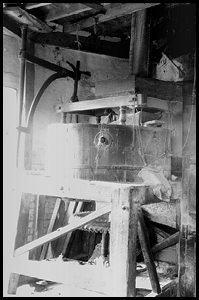 Fuller's Hill Mill
Less is known about Fuller's Hill Mill, but the Mill at Baxter's Green was dismantled and moved to Beyton in 1832.
The Great Mill was used as the cover for the Wickhambrook Scene for a long time. (The Wickhambrook scene is a bimonthly publication for the village.)
A detail of the windmill interior taken in 1943.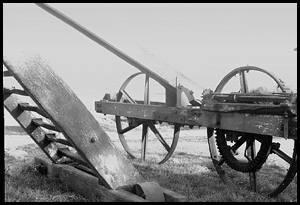 Mechanism for moving the position of the windmill. Photograph taken in 1943.
This shows the mechanism for rotating the windmill on its post to the appropriate quarter to gain maximum benefit from the wind.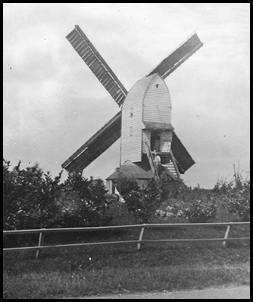 Kitty Mill
Photograph of "Kitty Mill". The name Kitty Mill is that taken from the family history of the Griffiths Woollard and Warner Bromley Families by Frank Griffiths Woollard. An extract of which relating to the Wickhambrook mills can be seen on the Woollard page.
At this time it is not clear which mill this image is of although by a process of elimination it must be either Bullock's or Fuller's Mill.
Further images of Wickhambrook windmills can be found at the Mills archive http://www.millsarchive.com/.
The Mills Archive Site archivist is sure that Bullock's Mill was also called Thorn's Mill and Little Kitty Mill.