Drawing Of All Saints' Church
The following pencil drawing was sketched by WH Neighbour of Stradishall in 1871. At the time he was a school boy of approximately 15 years of age. The drawing is now in the possession of Percy Nunn. Click on the image for the full size picture.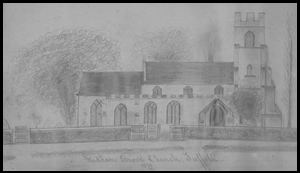 Drawing By WH Neighbour - click to enlarge
Although it is not clear whether this is a stylistic point or not. There is a second entrance to the left end of the boundary wall. Also this picture pre-dates the arch that now adorns the entrance to the church yard.