Thanksgiving Service With Bishop Clive
Sunday 17th July at 3.30pm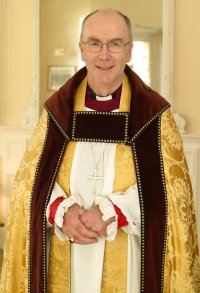 Bishop Clive [Credit The Diocese of St Edmunsbury and Ipswich DBF]
As you know we have big celebrations at Wickhambrook church to mark the completion of the three phase restoration program. The Bishop of Dunwich will be guest preacher at the thanksgiving service on Sunday 17th July at 3.30pm. Drinks and canapés will be served after the service. All are welcome to attend! Come and visit the church when you pass and see the work which has been going on and to which many of you have contributed through direct donations and supporting organized fundraising events.
The Restoration Committee have done a marvellous job matching the generous grants given to the project by English Heritage. The chairman and vice chairman have been the inspiration and guiding force behind all the works, making applications to English Heritage and other bodies for grants, chasing up architects and builders, working hard at events, answering the calls and letters which are a necessary consequence of such a large project. Words cannot express how indebted the church and community of Wickhambrook are to the chairman and the restoration team for making this restoration project happen. Because of them the church building will now survive intact for generations of Wickhambrook residents to come to worship weekly and at the great festivals of the year, to baptize their children, to celebrate their weddings to mourn their passing. So come along on the 17th July at 3.30pm, sing our hymns of praise, celebrate this wonderful restoration achievement, give thanks for those who have worked so hard to preserve this building for the village.
Pictures from the Thanksgiving service.