Holy Saturday Services
Please see the Service rota for details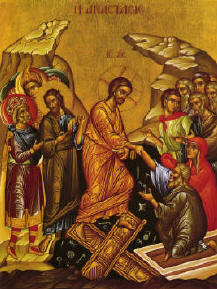 Holy Saturday
Holy Saturday (Sabbatum Sanctum), the day before Easter Sunday - the day of the entombment of Christ. It is the Lord's day of rest, when Christ's body lay in His tomb.
The Easter Vigil, also called the Great Vigil of Easter, is a service held in many Christian churches as the official celebration of the Resurrection of Jesus.
"Queen of Festivals" is one name given to the Easter Vigil and so it should be. The lighting of the fire and the Easter Candle both proclaim God's saving activity in the world. The Prophesies that are read point the way to the coming of Christ the Saviour. The blessing of the font, the renewal of baptismal promises (and if possible, the actual celebration of Baptism and Confirmations) point to our personal involvement with Christ who brings new life to his Church and his people.
The Liturgy continues with the celebration of the Eucharist where we celebrate our rising again with Christ. With great fanfare, the organ, which has been silent for three days, is played once again to help lift our hearts to God in song and praise.