Harvest Festival Service
Please see the Service Rota for details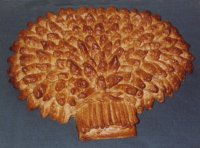 Harvest loaf
We celebrate Harvest throughout all the churches of the Benefice from late September to early October. These dates are advertised in the "Services" section of the website and also the "Events" section.
For these services the churches of the benefice are always decorated to look glorious. After the services the produce from the Harvest services is given to needy local organisations and groups.
Ted Capel shown here created a fabulous harvest loaf every year for the service at All Saints' church Wickhambrook. He is pictured below with his creation of 1999. Ted moved in the summer of 2006.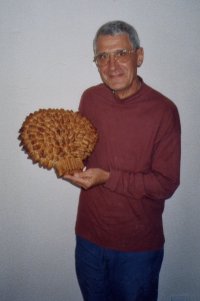 Ted with his 1999 creation
Harvest festivals are traditionally held on or near the Sunday of the Harvest Moon. This is the full Moon that occurs closest to the autumn equinox (about Sept. 23). In two years out of three, the Harvest Moon comes in September, but in some years it occurs in October.
The tradition of celebrating Harvest Festival in churches as we know it today began in 1843, when the Reverend Robert Hawker invited parishioners to a special thanksgiving service for the harvest at his church at Morwenstow in Cornwall. Victorian hymns such as "We plough the fields and scatter", "Come ye thankful people, come" and "All things bright and beautiful" helped popularise his idea of harvest festival and spread the annual custom of decorating churches with home-grown produce for the Harvest Festival service.
Corn dollies were made at Harvest time from the last sheaf of corn cut. The Corn Spirit was supposed to live or be reborn in the plaited straw ornament or corn doll and was kept until the following spring to ensure a good harvest. The corn dolly often had a place of honour at the harvest banquet table.