Carols by candlelight Service
Please see the Service Rota for details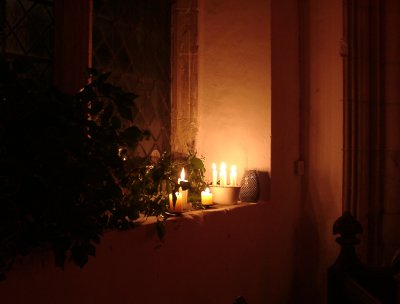 Carol Service - A window display
The annual carols by candlelight service will be held at - Please see the Service Rota for details . After the service there will be mince pies and refreshments served. We look forward to seeing you for this special event.
Our service is based on the "Festival of Nine Lessons and Carols" as made famous by King's College Cambridge. King's College adapted the service from an Order drawn up by E.W. Benson, later Archbishop of Canterbury, for use in the wooden shed, which then served as his cathedral in Truro. The service was first conducted at 10 pm on Christmas Eve 1880. A full history of the "Festival of Nine Lessons and Carols" can be found on the King's College website.
The picture shows the display in one of the many windows round the church. On average we use over two hundred candles to light the church for this very atmospheric service.
Service format
The readings remain the same but the carols with the exception of the first and last may vary from year to year.
Carol no 4 : Once in Royal David's City
Welcome and Bidding Prayer
Carol no 3 : O little town of Bethlehem
Reading 1 : Genesis 3: vs. 8 - 15 - Paul Bevan
Carol no 25 : It came upon the midnight clear
Reading 2 : Isaiah 9: vs. 2, 6 - 7 - Elizabeth Bevan
Carol no 22 : In the bleak mid-winter
Reading 3 : Luke 1: vs. 26 - 38 - Sarah Bevan
Carol no 12 : Hark the herald-angels sing
Reading 4 : Luke 2: vs. 1 - 7 - Ruth Seal
Carol no 7 : Away in a manger
Reading 5 : Luke 2: vs. 8 - 16 - John Seal
Carol no 10 : While shepherds watched their flocks by night
Reading 6 : Matthew 2: vs. 1 - 11 - Audrey Swift
Carol no 26 : We three kings of Orient are
Reading 7 : John 1: vs. 1 - 14 - Rector
Carol no 6 : The first Nowell
Concluding Prayer and Blessing
Carol no 13 : O come, all ye faithful (omit last verse)
All the churches of the Bansfield Benefice will be holding Carol services. To see when and where consult the service rota for December.